Previous Page
O Cinema Miami Beach
500 71st Street, Miami Beach, FL 33141
Movieline: 1-(786)-207-1919
Website: http://www.o-cinema.org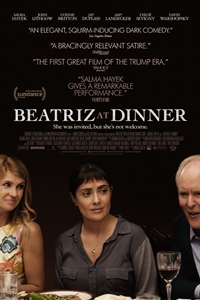 Beatriz at Dinner (R)
Cast: Salma Hayek, John Lithgow
Runtime: 1 hr. 23 mins.

Beatriz, an immigrant from a poor town in Mexico, has drawn on her innate kindness to build a career as a health practitioner in Southern California. Don Strutt is a real estate developer whose cutthroat tactics have made him a self-made, self-satisfied billionaire. When these two polar opposites meet at a dinner party, their worlds collide and neither will ever be the same.