Previous Page
Coral Gables Art Cinema
260 Aragon Avenue, Coral Gables, FL 33134
Movieline: 1-(786)-385-9689
Website: http://www.cinemateque.org/home.html
The Song of Sway Lake (R)
Cast: Rory Culkin, Robert Sheehan
Runtime: 1 hr. 40 mins.

A young man's plot to steal a valuable jazz record from his grandmother's lake house is derailed when his accomplice falls for the matriarch.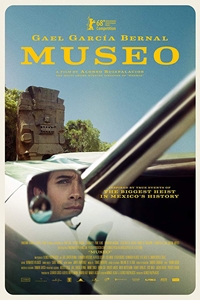 Museum (Museo) (NR)
Cast: Gael García Bernal, Simon Russell Beale
Runtime: 2 hr. 8 mins.

Well into their 30s, Juan Nuñez (Gael García Bernal) and Benjamín Wilson (Leonardo Ortizgris) still can't seem to finish veterinary school or leave their parents' homes. Instead, they wallow in comfortable limbo in the district of Satelite, Mexico City's version of an American suburb. On a fateful Christmas Eve, however, they decide it's finally time to distinguish themselves by executing the most infamous cultural artifacts heist in all of Mexican history, looting the country's iconic National Anthropology Museum.