Previous Page
AutoNation IMAX Theatre
401 SW 2nd Street - Museum of Discovery & Science, Fort Lauderdale, FL 33312
Movieline: 1-(954)-467-6637
Website: http://www.mods.org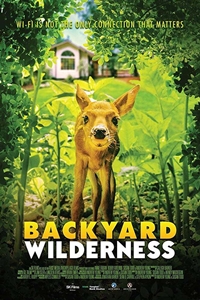 Backyard Wilderness 3D ()
Cast: Susan Todd, Andrew Young


Backyard Wilderness is a 3D Giant Screen film shot in a suburban woods where humans and wildlife mingle. The film overturns convention by taking the point-of-view of the animals as they observe a human family living in their midst - in fleeting glimpses and snatches of conversation. The dramas and beauty of forest life are captured in rare intimacy by immersive 3D cameras - mounted inside dens and nests, moving along forest floor and pond bottom, and revealing through time lapse marvels of nature invisible to the human eye. But the modern family dwelling in the woods is blind to the real-life spectacle around it, absorbed by its array of electronic devices - until a twist of fate in the film's climax awakens them to the infinite wonders of life in the wild.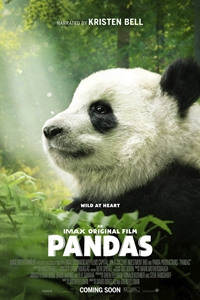 Pandas: An IMAX 3D Experience (G)
Cast: Kristen Bell
Runtime: 40 mins.

Pandas are beloved around the world, and now they are coming to the big screen in the IMAX® original film "Pandas," a breathtaking documentary adventure and amazing experience for the whole family. At Chengdu Panda Base in China, scientists are dedicated to protecting the species by breeding adult Giant Pandas in order to introduce cubs into the wild. This film follows one such researcher, whose passion leads her to initiate a new technique inspired by a black bear program in rural New Hampshire. What starts as a cross-culture collaboration becomes a life-changing journey for an American biologist who crosses an ocean to join her; a scientist from Inner Mongolia; and a very curious female cub named Qian Qian, born in captivity. Captured with IMAX® Cameras, join Qian Qian on an exciting new adventure in the mountains of Sichuan as she takes her first steps outside her protected habitat, discovering her true animal nature... even as she faces the challenges of the unknown.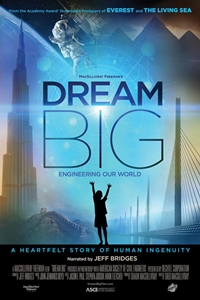 Dream Big: Engineering Our World: An IMAX 3D Experience ()
Cast: Jeff Bridges
Runtime: 42 mins.

Narrated by Academy Award ® winner Jeff Bridges, Dream Big: Engineering Our World is a first film of its kind for IMAX ® and giant screen theatres that will transform how we think about engineering. From the Great Wall of China and the world's tallest buildings to underwater robots, solar cars and smart, sustainable cities, Dream Big celebrates the human ingenuity behind engineering marvels big and small, and shows how engineers push the limits of innovation in unexpected and amazing ways. With its inspiring stories of human grit and aspiration, and extraordinary visuals for the world's argest screens, Dream Big reveals the compassion and creativity that drive engineers to create better lives for people and a more sustainable future for us all.